All about Ringette
---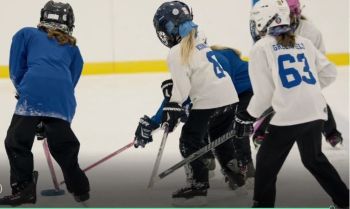 Ringette is the fast-paced team sport played on ice.
All About Ringette
Learn to skate
Start as young as 5 years old
Building strong, fit & confident athletes
Non-contact sport with full protective equipment
A full hour filled with fast play
Maximum participation, a true team sport
Play recreationally or competitively
Become a skilled athlete
Travel! Play locally, provincially, nationally & even internationally
WHO CAN I CONTACT FOR MORE INFORMATION?
Please contact info@lethbridgeringette.ca for more information.
WHERE CAN I TRY IT?
Is an opportunity for your child to come out for FREE and try our sport with no commitment. CTR events are held a couple times per year and are a great way to see what ringette is all about. LRA representatives will be present to answer any questions you may have. Come give it a try!
The next CTR Event is **Day **Month **Time **Arena. Learn more and sign up here